At Book a Caricaturist we are lucky enough to have some of our fantastic entertainers shower us in artistic gifts! The whole team here have had mugshots done on numerous occasions and so we thought to show our gratitude to the wondrous artists we would put together a quick blog that highlights how differently each caricaturist views their subject.
Before going any further though we have to say that we LOVE THEM ALL! We never get bored of receiving them and we are always extremely grateful when we do… so, massive thanks to all 😀
Spencer is a Lancashire based caricature artist who has worked with us for many years now. He is an extremely entertaining caricaturist and happy to work from a seated position or mix and mingle with guests. Over the years he has produced the following work for members of the team here and at Warble Entertainment Agency. We have to say… we love them all! The images do show how different the results can be between performing on the move or from a stationery position, where perhaps more time can be allotted to the sitter. And, also commission style pieces where the artist is under no real time constraints (except their own). Often commission pieces are a lot more detailed and can include colour as well as many subjects on one large sheet of paper, which makes them ideal as gifts or for corporate pieces.
An example of how different caricaturists handle the same person / sitter can be further seen in the following examples.

These are caricatures drawn by Jonathan the Caricaturist and Steve P the Caricaturist respectively, and based on the same photograph that was forwarded to each artist.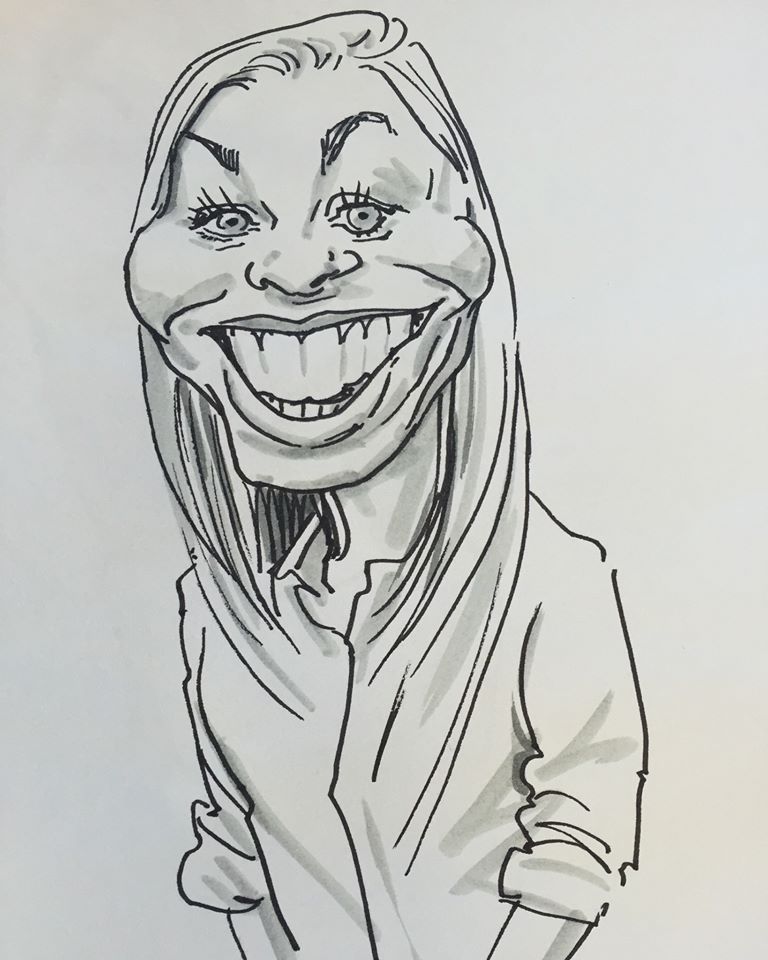 And, similarly, these are examples of the same subject as drawn by Rich the Caricaturist and, once again, Steve P:
There are also some drastically different approaches that can be adopted with caricatures. For example, the first example has been drawn by, Shropshire based artist, Brighty the Caricaturist in an 'on-the-spot' setting and is very detailed for a live piece of work.
And, the following one is of the same couple but by Bob the Derbyshire based Caricaturist who chose to adopt a Simpsons style (at the couples request) and has minimal, but very effective, detail by comparison to the first one:
Finally, we touched briefly upon commission pieces earlier, but to show a couple of different styles with regards this area we also have the following images. The first piece has been drawn by Jonathan the Caricaturist and is a more traditional caricature style, whereas the second from, West Yorkshire based, Dean the Caricaturist is much more detailed and (whilst still caricature-esque) more traditionally artistic.
Hopefully, the above examples will give you an idea of how different artists work and show a variety of different styles that caricaturists offer. Ultimately, preference is down to you… but, if you need any guidance or have any questions about suitability for a caricaturist at your own event or a piece of art as a gift… contact us today 😀