Please welcome...
Spencer the Caricaturist
An introduction
Spencer is the number one choice of caricaturist with agents and event organisers all over the UK. He is the perfect party caricaturist and ideal for Weddings, Christenings, Bar Mitzvahs, Corporate Events... in fact, any occasion where you want something a bit different that will not only amaze your guests but give them a souvenir that they will keep forever! Spencer mingles with guests and is perfectly happy to draw sitting or standing. He can go table to table and doesn't need to set up equipment or expect guests to form a queue! Spencer is a regular cartoonist for Private Eye magazine.
Make an enquiry
Gallery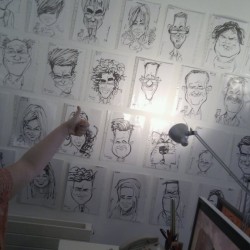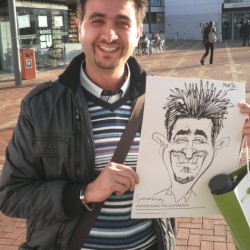 About
Spencer is the number one choice of caricaturist with agents and event organisers all over the UK. He is ideal for Weddings, Christenings, Bar Mitzvahs, Corporate Events, and Parties... in fact, any occasion where you want something a bit different that will not only amaze your guests but give them a souvenir that they will keep forever!
Spencer is especially good for trade stands at exhibitions - he guarantees to increase footfall and to make your stand the envy of its neighbours! Prospective clients can chat with the stand hosts and don't have to pose or keep still. Then they take a unique, branded gift that they can't get anywhere else!
Spencer says, "a successful caricature must capture a great likeness and be an individual creation; it must be drawn quickly and stylishly; above all, it must be FUNNY!"
He is very quick and uses a black brushpen, giving a very bold, fluid and graphic image. Don't worry if any of your guests are the 'sensitive' type – nobody gets offended and he isn't too cruel (unless you want him to be of course...)
Extra Info
Are you as good as you say you are?
I've been a full-time professional artist and entertainer since 1996, specializing in "live" caricatures. Over the years I have drawn tens of thousands of portraits and I know just exactly what's needed to add an extra dimension to the atmosphere and your guests' enjoyment of your event. The magic of the experience comes from the finished picture and how funny it is, and from people seeing it unfold in front of their eyes in two or three minutes. I use a black ink brushpen on shiny white card, which gives a dramatic effect and helps me to draw more quickly. As the lines can't be erased, it's a bit like walking a tightrope with no safety net! I'm the first choice of the leading entertainment agencies in the North West and I have worked all over the UK and abroad. So you are in safe hands!
Do guests have to pay for their pictures?
No. I charge a fee for attending which covers everything with no hidden extras. But don't worry, because I work hard, give 100%, and guarantee you will be totally happy.
How can I keep my drawing safe if everyone is drinking and dancing away?
Each drawing is presented in a clear plastic wallet, which helps prevent creasing and damage from spilt drinks. I can keep it for you until the end of the evening, or you can run out and put it in your car or hotel room to make sure.
How many people can you draw at an event?
Each drawing should ideally take between 2 to 4 minutes. Sometimes a queue will form which means I can draw quite a large number quickly, or sometimes I will be mingling between tables during a dinner perhaps, which means that there is more time between drawings, but I always make sure that everyone can see what's happening so they can join in the fun.
We are a charity, will it cost us less?
Yes. Although I don't work free of charge, I do give a discount. There is also this other benefit: if you like, you can provide me with a sealed collection tin and I will collect donations from guests. It's important to remember that they will be under no pressure or obligation to donate, and there is no fixed amount stipulated. They can simply put something in the tin if they love their picture, and, if the drink is flowing, well, you see what I mean. It's important to remember that this only works if the guests know that there is no pressure on them and that the drawings are all free and that they can donate if they feel like it. Although I can't guarantee how much I will accumulate, I have very often covered my fee so that I end up costing the organisers nothing!
Do you work at corporate events?
I entertain at all kinds of events. Office parties, Christmas, awards dinners, team-building… expertly done caricatures are unique and really set your event apart, and can be a superb way of entertaining clients. Not only that, employees and clients alike will keep their caricature for ever, and with the date and your company name on the drawing, will always remember where they got it!
Do you work at birthday parties?
Yes. Caricatures done "live" at birthday parties (young or old, a big occasion or a small family get-together) are wonderful entertainment, and a permanent souvenir that guests will always treasure. Funny and lifelike caricatures are a unique and exciting way to entertain everyone.
Can you help at our trade fair?
This is a really amazing way to boost footfall on your stand. I proactively go out and attract passers-by with a friendly and confident approach, draw their (complimentary!) caricature and let you get on with the business of turning them into clients. Contrast this with the stands where the staff sit and wait for customers to come to them – they don't. Customers and potential customers go away with a permanent reminder of their visit to your stand – one that they can't get from anyone else.
I'm getting married. Is this a suitable kind of entertainment?
Definitely. A wedding is such a happy occasion and these hilarious caricatures just add to the fun and jollity. Also, sometimes the guests don't know each other so well, or at all, and having caricatures done "live" is a brilliant way of bringing people together. With the date and the bride and groom's names on the picture, your guests will be reminded of the big day for years to come.
Testimonials
Michelle Sanders | Private Party | Nottinghamshire
Spencer was great, he had my guests laughing and talking about the caricatures all night and even now they are raving about it and thought it was a great idea! I was very happy with Spencer and also happy that my guests enjoyed themselves. You have been extremely helpful and accommodating from the first enquiry I made with you down to the final details! Much to my surprise my partner actually proposed to me on the night so now I have a wedding to plan!! So I now need to come up with something different for my wedding. I will certainly use Warble Entertainment again and have already recommended your services to friends and family, thank you so much for your great attitude and help, great service is never forgotten!
Mr & Mrs Hobson | Wedding | East Yorkshire
Thank you for your help in organising entertainment for our Wedding. Please pass on our thanks to Spencer. The service we received from you both was fantastic. Spencer went down a treat with the guests and we would recommend you both.
Martin Ward - Shop Direct | Corporate Event | Liverpool
Spencer was a treat and the pics were loved by all the guys apart from the one he did of me!!! Ha-Ha. Cheers.
Donna Allcock | Wedding | Cheshire
Spencer was brilliant and had a queue forming the moment he arrived. Professional, polite and a good rapport with all our friends and family. Please send on my thanks to Spencer for his drawings which were very true to the person he was drawing, humorous and showed attention to detail. Many, many thanks, Donna Evans
Gareth Jones | Wedding | Denbigh
Got on really well with guests and was great fun.
Make an enquiry now
& see why we are the UK's No.1 supplier of Caricaturists
How to
Hire a caricaturist
Its super-easy to find the perfect caricaturist for your
event at Book a Caricaturist. Make an enquiry via our
enquiry form or call today and get the ball rolling!
Click here to make an enquiry today