Please welcome...
Jonathan the Caricaturist
An introduction
You should book Jonathan if you're looking for quality. He is the only live caricaturist in the UK to have won awards from the British Cartoonists Association and Cartoon Art Trust. His work has appeared in all the best magazines and newspapers including The Times, The Spectator and Radio Times. His work has also been exhibited at London's Cartoon Museum and National Portrait Gallery. Please read the FAQ section for information about booking...
Make an enquiry
Gallery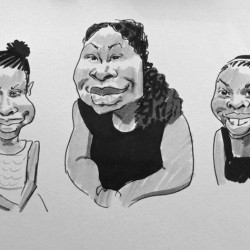 About
If you book Jonathan you get quality work from a professional cartoonist.
Prince Charles described his work as being 'remarkable'. Brian May, Sir Michael Parkinson, Heston Blumenthal, David Dickinson, Ben Miller and Raymond Blanc have bought Jonathan's paintings of themselves. Why not add yourself to that list?
He has worked full-time for magazines and newspapers for the past 14 years. Clients include the Radio Times, The Times, The Independent, The Spectator, New Statesman and many more. In 2014 an advertising campaign featuring his work appeared in The New Yorker.
Jonathan only works from an easel, for best results.
Extra Info
Jonathan the Caricaturist works seated at an easel, as it gives best results.
Lighting is essential. He needs to see who he's drawing! If you're considering drawing in the same room as a disco please arrange a standard lamp from the venue for him to use, in order to maintain the disco vibe and let Granny boogie.
The best time to book him for a wedding is the evening reception.
Expect drawing to be very popular with guests. Minimum bookings are three hours because of this!
Drawings are A4 and in ink, with an A3 drawing of the Bride and Groom or the event's VIP.
The fee is for working time on the day and does not include providing other artwork in advance. Please ask for a quote for this.
Please note that Jonathan doesn't do mix and mingle work.
Testimonials
Lucy and Adrian | Wedding | Shropshire
What a fantastic thing to walk away with at the end of our wedding day. It is so nice to have a high quality, yet fun drawing on our wall which really captures our mood. Jonathan picked out the small details and our guests were highly entertained watching the drawing unfold. We would highly recommend Jonathan if you want to have something different and unique at your wedding to wow your guests.
Su Morrow | Birthday Party | Warwickshire
Jonathan was outstanding. He could not have done more to ensure my mother and fathers caricature event was an enjoyable experience. He more than exceeded expectations and they were already set high having spoken to him prior to the event. We would very much recommend him to others.
Helen Kinder | Wedding | Derbyshire
Jonathan did an amazing job of capturing our guests who all loved the whole experience. Jonathan worked really hard, his drawings are of great quality and detail we would recommend Jonathan 10-10 Thank you so much for making our wedding timeless with your drawings and thank you for all your hard work!
Kul Bwail (Chairman - Redditch Round Table) | Charity | Worcestershire
The guests at our annual charity dinner were extremely pleased and happy with the drawings produced by Jonathan. He was professional and polite during the entire evening and was busy all night.
Andy Didcott | Birthday Party | Worcestershire
Jonathan, was outstanding. He called before the event to understand more about the event and any special requests and preparation that he could do prior. He arrived on time, stayed longer than the agreed time and did an outstanding job. Everyone at the Birthday party was delighted and we all had memories of the evening to take home. Jonathan's caricatures were detailed, accurate and captured the individuality of the people drawn. Highly recommended.
Make an enquiry now
& see why we are the UK's No.1 supplier of Caricaturists
How to
Hire a caricaturist
Its super-easy to find the perfect caricaturist for your
event at Book a Caricaturist. Make an enquiry via our
enquiry form or call today and get the ball rolling!
Click here to make an enquiry today