Please welcome...
Bob the Caricaturist
An introduction
Bob is not your typical 'big nose/big teeth' caricaturist. With his sitters he likes to show a bit of sensitivity, get a good likeness, maybe add a bit of glamour while certainly having some fun – and all in five minutes!
Make an enquiry
Gallery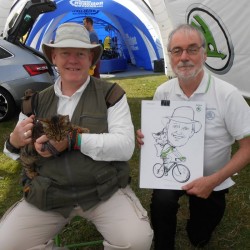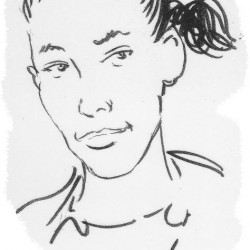 About
Bob has been working as an instant caricaturist / portrait artist for around ten years, and as a freelance illustrator for a good deal longer. As such he can bring a lot of experience, professional technique and variety to his caricature work.
Bob is happy to be 'in character'; for fancy dress events and has been Rembrandt and a French Belle Epoque-style artist. He can therefore theme the caricatures; Bob has done things like 'Wild West' wanted posters, sketched people in the style of Van Gogh and Picasso and even drawn sitters as if they're characters from the Simpsons and Manga comics!
Extra Info
Bob averages about 5-6 minutes per sketch, and he usually does well over 30 caricatures during a three-hour session. He can work standing, going table to table or at a fixed seated spot. He works on A4 paper, though he usually has an A3 pad handy for couples. Bob's only real requirement is reasonable 'reading' light to work by – drawing under disco lights can be a bit tricky!
Testimonials
Sharon Haslam | Wedding | Derbyshire
Bob was amazing. He arrived early and drew lots of pictures. He was very friendly and is a superb artist. Thank you Bob so very much. I cannot recommend him highly enough. To sum him up with one word... EXCELLENT !!!!
Karen Sheen | Wedding | Northamptonshire
Absolutely perfect! Lovely man, didn't stop drawing for 3 hours ... Captured most of our guests and always had a queue :)
Michael Wood | Wedding | Staffordshire
Thank you so much for helping make our day perfect, our families loved you and are swapping and sharing giggles about their caricatures. Theresa & Michael Wood
Gail Tomlinson | Wedding | West Midlands
Bob arrived on time and came and introduced himself. He had already taken a quick look at the room where the evening reception was to be held and had selected a place to sit which he felt was well lit and suitable. I didn't really get an opportunity to meet with him again as he was so busy from the minute he started (and I was also busy with our guests!). However, the feedback from the guests was very positive and everyone was very pleased with their drawings. Thank you.
Hazel Duffin | Birthday Party | Leicestershire
I booked Bob for my 50th birthday celebrations as I wanted all my friends to have a memento of the evening to take home with them. Bob was a nice guy. Prompt and very accommodating (he made sure that no-one was missed out). Our party of ladies were quite excitable and boisterous, but Bob was great and was an entertaining addition to the festivities. Thank you.
Make an enquiry now
& see why we are the UK's No.1 supplier of Caricaturists
How to
Hire a caricaturist
Its super-easy to find the perfect caricaturist for your
event at Book a Caricaturist. Make an enquiry via our
enquiry form or call today and get the ball rolling!
Click here to make an enquiry today