Please welcome...
The Silhouette Artist
An introduction
Unique entertainment is the order of the day with The Silhouette Artist. With a twist on the traditional Caricatures drawn by hand, The Silhouette is armed with paper, a few pairs of scissors and a keen eye for detail to create fantastic and detailed keepsakes for your guests to take home.
Make an enquiry
Gallery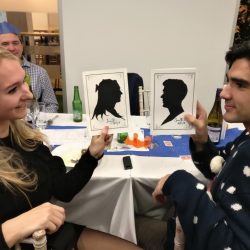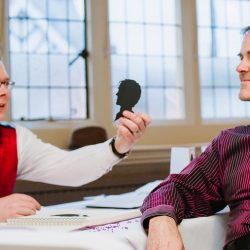 About
The Silhouette Artist is a trained artist who sold his first portrait at the age of 14, got his degree in graphic design from St Martins in 1990 and has been doing portraiture & caricature of one sort or another ever since! He loves helping to generate the buzz of an event or party, and adores the reaction his lightning-fast likenesses get.
Extra Info
The Silhouette Artist is very happy to offer a free silhouette portrait of the couple which he can cut from photos emailed by the client - this can be done prior to the wedding to ensure that the stars of the show don't miss out on getting their portraits done, which can happen as they're often so busy with all their guests and duties. The image can also be used on their invitations and any other wedding paraphernalia or displays!
All silhouettes drawn and travel are included in the price given.
Testimonials
Vanessa Coutinho | Birthday Party | Middlesex
Steve is very talented. Having him at my party was fab! My guests were delighted with their silhouettes and Steve, bless him, had a steady stream of people waiting throughout. Steve is such a lovely man too. He was kind and funny and put everyone especially the children at ease. Thanks to Steve, that was my best party yet! Many thanks again Steve!
David Horan | Wedding | Derbyshire
Steve was absolutely brilliant, everyone had fun, he worked incredibly hard, was very entertaining and a brilliant artist to boot. We all had a fabulous time with him and the results were superb. It was the icing on the cake for our wedding. Really, really pleased we chose him, people had so much fun in his company - excellent.
Make an enquiry now
& see why we are the UK's No.1 supplier of Caricaturists
How to
Hire a caricaturist
Its super-easy to find the perfect caricaturist for your
event at Book a Caricaturist. Make an enquiry via our
enquiry form or call today and get the ball rolling!
Click here to make an enquiry today