Please welcome...
Mike G The Caricaturist
An introduction
Mike G is one of the UK's most in demand and exciting caricaturists. With brilliant sketches and on point likenesses, it's easy to see why Mike is so popular and has drawn over 10,000 caricatures at weddings and events up and down the UK. His keen eye for detail and the ability to translate that to paper in hilarious fashion also led to him creating the characters for the ITV satirical show, Newzoids, for two series.
Make an enquiry
Gallery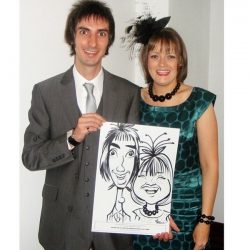 About
Mike is a caricaturist based in Newcastle upon Tyne and has years of experience at drawing guests at events and also commissioned work. Having worked on hundreds of projects with many clients both private and corporate, and drawn over ten thousand caricatures at venues and events all over the world, he is one of the UK's most experience and respected caricaturists.
With an incredible eye for capturing exaggerated likeness, Mike is able to create astounding and hilarious likenesses in minutes with an impeccable attention to detail that will wow your guests and give them a fun and treasured memento of the day to take home.
Extra Info
How much time do you require to set up?
I need around 30 mins for easel drawings. For mix & mingle, enough time to find out your needs and then we're pretty much ready!
How much space do you require?
8ft square approx / no space if performing mix & mingle.
Do you require any electrical sockets?
Yes, 1 x socket if performing from a fixed easel.
Are you happy to draw from a stationery position and also work whilst mixing and mingling?
Yes. I can do both so it really is up to you and the type of event.
How many caricatures on average can you draw per hour?
12 guests per hour from easel (black line & grey shade, singles and doubles), 15 guests per hour mix & mingle. (Black line, singles only.)
Can you do a pre-drawn caricaturist as a gift?
Yes, based on just a couple of images, I can create either a black and white or full colour commission.
Testimonials
Laura Helen | Pre-Drawn Caricature |
Fabulous, fabulous, fabulous !!! Amazing retirement gift and done with hardly any notice and still delivered !! Will be using again
Mark Simmons | Wedding | Newcastle Upon Tyne
Absolutely amazing guy and kept my guests throughly entertained at my wedding and gave it that extra special touch. Caricatures were top notch and good light hearted entertainment. Would definitely recommend his services - trust me you won't be disappointed. My only regret is I didn't book him for longer!!!!
Make an enquiry now
& see why we are the UK's No.1 supplier of Caricaturists
How to
Hire a caricaturist
Its super-easy to find the perfect caricaturist for your
event at Book a Caricaturist. Make an enquiry via our
enquiry form or call today and get the ball rolling!
Click here to make an enquiry today