Please welcome...
Mick W the Caricaturist
An introduction
Quick fire on - the - spot caricatures, guaranteed to liven up your event, be it corporate, a wedding, or party! Gift Caricatures also available!
Make an enquiry
Gallery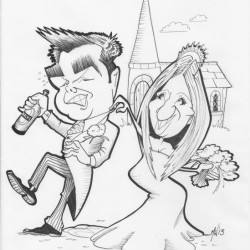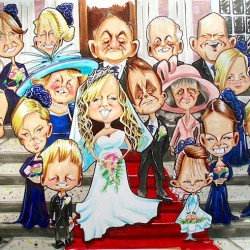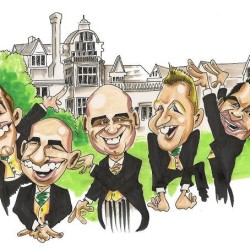 About
- Over 12 years experience entertaining guests at weddings, private parties and corporate events
- Usual performance times at weddings are 2 – 3 hours, usually when the wedding breakfast has finished and the room is being changed over
- Will mix and mingle amongst guests, drawing them "on the hoof"
- Provides great entertainment not only for the recipient, but also for the many on looking guests too
- Takes approximately 4 minutes to draw one quality black and white caricature
- Can draw up to 6 people in one picture
- Caricatures as gifts can be drawn from Mick W's studio from photo's provided
Extra Info
Caricatures are given out on the spot unless the hirer instructs otherwise
The recipient does not have to pay extra for the picture
Travel costs are included in the price
Testimonials
Sue Rice | Private Party | Cambridgeshire
Very professional, polite and talented. Everyone very pleased with their drawings.
Nina | Wedding | Leicestershire
Oh my god, they're bloody awesome!!! You have got them down to a tee.... even Carla's eyelashes - you are amazing, fact!! Thank you - signed one very happy Nina!!
Make an enquiry now
& see why we are the UK's No.1 supplier of Caricaturists
How to
Hire a caricaturist
Its super-easy to find the perfect caricaturist for your
event at Book a Caricaturist. Make an enquiry via our
enquiry form or call today and get the ball rolling!
Click here to make an enquiry today