Please welcome...
David the Caricaturist
An introduction
David is a talented, enthusiastic caricature artist from Cheshire. Having studied Art and Design for many years, David has provided many outstanding pieces of artwork for various clients – such as producing personal caricatures for engagements, band posters or simply gifts for friends and family. David has also worked at many live events such as the Radio City 96.7 Christmas Party 2011, drawing live 'On-the-Spot' caricatures for DJ's and newsreaders, as well as providing artwork for celebrities including X Factor's Marcus Collins, Alex Gerrard, Sheree Murphy and cast members from Hollyoaks. Available to entertain at Wedding celebrations and events of any kind, David's style of drawing will guarantee your guests take home a perfect souvenir from your special day.
Make an enquiry
Gallery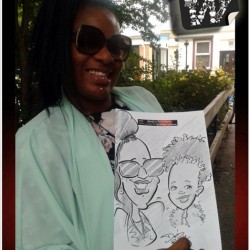 About
Having gained a degree in Illustration at Glyndwr University in Wrexham, North Wales, David has since gained experience by providing 'on-the-spot' caricatures at various parties as well as providing wonderful private commissions based on photographs.
David has a friendly, relaxing approach and will entertain your guests with his unique style of drawing which will capture your likeness while also providing plenty of laughs.
Artwork is drawn on A3 size paper (A4 for 'mix-and-mingle' events) which can also be specially labelled with prior notice, such as the names of the couple getting married and the date of event. Drawings usually take up to 5 minutes to complete for each person.
David is also available to provide personalised Wedding Signature Boards – created in advance from your photographs, a romantic storyboard will display all the important dates leading up to your big day (first date, hen and stag nights, location of the ceremony, honeymoon destination, etc.). It can be mounted with enough space for your guests to leave you a message.
Extra Info
Q. How long does it take to draw a caricature?
A. A single caricature usually takes 5-6 minutes to draw (everyone is different!), obviously it would take longer to draw couples and groups.
Q. Will guests to able to keep their drawings?
A. Of course! All artwork for live events is drawn with quick-dry Tombow marker pens and Prismacolour Art Stix for shading.
Q. What size paper do you use?
A. Working from a stationary position, artwork will be provided on A3 sized paper, A4 for 'mix-and-mingle' events.
Q. Do you work from a stationary position or do you mingle with the crowd?
A. I am happy to work from a stationary or mix and mingle!
Q. How many hours do you work at live events?
A. I am available for 2, 3 or 4-hour sets. Also available to work longer with breaks.
Q. When is the best time to hire a caricaturist?
A. It is strongly advised that you do not book a caricaturist during times when meals are being served, guests generally do not like to be interrupted while eating, and the artist is likely to get in the way of waiters/staff members attempting to clear plates.
Testimonials
Karen Comerford | Wedding | West Midlands
We were very pleased with David. He was pleasant and polite and also did a very good job regarding the caricatures. I would definitely recommend him for any type of family event. Thank you, Karen Comerford
Paula Winston | Wedding | Cheshire
Absolutely amazing work. David was lovely and nothing was too much trouble. We would highly recommend him. Thank you David.
Megan Trueblood Smith - Cascade Productions | Corporate Event | Flint
David was great! Look forward to working with him again.
Lorraine Scobbie | Wedding | Merseyside
We can't recommend David enough. All the guests thought he was wonderful and were totally taken with the him. There were queues at times! In fact my mum complained she couldn't get hers done as every time she went over, a line of people were waiting! David really added to our special day, was entertaining and good fun. To have the drawing as a memento was really special for both us, the bride and groom, and our guests. He was very polite, professional and a true gentleman throughout. I would have no hesitation in recommending David to anyone.
Julie Dowdall | Birthday Party | Merseyside
David was amazing, and was a real hit with all the guests at my daughters 18th as he provided us with many laughs and happy memories. A really nice person, I Would highly recommend him.
Paige Garvey | Wedding | Manchester
David was the perfect entertainment to keep our guests occupied whilst we had our wedding photos taken. He managed to do a lot of caricatures in a small period of time, and our guests were really pleased with them. The only downside was we didn't book him long enough for everyone to have one done!! We have recommended David to friends who are also getting married within the next few years.
Lita Cavanagh | Party | Liverpool
Excellent service right from the start. Booking is made easy with lots of contact prior to event to put you at ease. Very professional service. Dave was brilliant on the night. I have no idea how he got through so many people with great positive feedback from guests. We chose the option of Dave moving round tables which worked out really well as people watching were also entertained. Guests, quite a lot of them, went home with their own caricature. They are in pencil and not colour as you may think with his advert, but this did not make a difference to the service given. Would recommend for your party 100%.
Make an enquiry now
& see why we are the UK's No.1 supplier of Caricaturists
How to
Hire a caricaturist
Its super-easy to find the perfect caricaturist for your
event at Book a Caricaturist. Make an enquiry via our
enquiry form or call today and get the ball rolling!
Click here to make an enquiry today