Please welcome...
Christopher the Caricaturist
An introduction
Christopher the Caricaturist is an award winning caricaturist and satirical illustrator. He has spent 25 years working for all the top newspapers, magazines and publishers in Britain as well as in the USA and Europe. South East and London based this caricaturist is available for all types of events from the smallest party to the grandest function. Celebrations, birthdays, weddings, anniversaries... plus, corporate functions, product launches, trade shows, business events, educational seminars and musical and theatrical events. In fact, Christopher the Caricaturist has worked extensively for the theatre drawing actors during performances. Christopher's work is not just great fun but of a quality that you will want to keep forever. A wonderful gift to those you love and a wonderful souvenir of a great event in your life. Christopher's work hangs in the homes of the rich and famous and a few galleries!
Make an enquiry
Gallery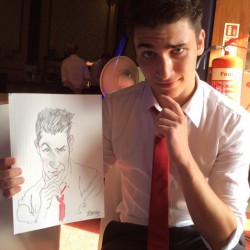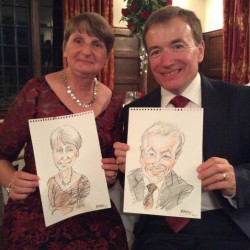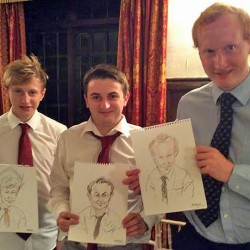 About
Christopher draws speedily... So it's quick and it's fun.
He can draw anything! Not just people... He can sketch full figure to traditional head and shoulders and he can capture people dancing or giving speeches. He is great at drawing children too.
Christopher can be commissioned to draw from photos afterwards for a more detailed colour portrait.
Extra Info
What do you need?
Usually two chairs one facing each other and a small table. Christopher is happy to mix and mingle too.
What size are the pictures?
A4 - that's computer paper size. A great size for mounting and framing (and scanning). Black and white drawings, sometimes a bit of red. All drawings are placed in a plastic sleeve so you can show your mates straight away.
When is a good time?
Usually at the beginning of an event, the first 2 or 3 hours while people are mingling and eating and before the lights go down for dancing.
Testimonials
Kevin Gold | Private Party | London
Chris was a delight both personally and artistically.
Simon Mackay - WHSmith | Corporate Event | London
Lots of positive feedback from the crowd. Chris is accommodating, friendly, patient, and extremely talented. We will not hesitate in using him again.
Kathy Sowerby | Wedding | Kent
I am so glad that we had Christopher at our wedding. All of the children were queuing up for him and he had them entranced. We have some lovely mementos of our day and would recommend Christopher very highly.
Sammi Marsh | Wedding | Surrey
Very good.
Kirstie Whitcombe-Smith | Private Party | Surrey
Excellent!! Chris arrived early and the feedback was brilliant. Would definitely recommend Chris. Please pass on my thanks and wishing you a very Merry Christmas!
Make an enquiry now
& see why we are the UK's No.1 supplier of Caricaturists
How to
Hire a caricaturist
Its super-easy to find the perfect caricaturist for your
event at Book a Caricaturist. Make an enquiry via our
enquiry form or call today and get the ball rolling!
Click here to make an enquiry today