Please welcome...
Neil S the Caricaturist
An introduction
Live Caricatures and Cartoons enhance your event and provide an opportunity for your guests to have a fun day! Each Caricature takes between 5 and 10 minutes per person and, once finished, your guests can take the picture away with them. All pictures are included in the booking price. Based in Lanarkshire, Scotland, Neil is a great choice to capture your special event with some fun!
Make an enquiry
Gallery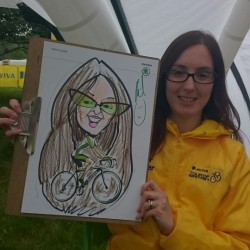 About
If you're looking to add some fun to your event, hire Neil S the Caricaturist!
Neil has years of experience in drawing caricatures and specialises in quick, fun cartoon drawings of your guests.
For Weddings,He can even allocate a space at your venue where all the pictures can be displayed. Neil will supply a "Washing Line" with pegs so we can display the pictures for everyone to enjoy.
Extra Info
Can you mix and mingle with my guests?
Yes, Neil S can do both - If you'd prefer him to work from table to table at an event, he can do this and he can also work from a stationary position providing there is enough light.
How many caricatures can you draw per hour?
On average, about 12 people when he's working in black only. Colour drawings obviously take longer and this is normally around 6 per hour.
Can I commission you to draw a Caricature without booking you for an event?
Of course! The price depends on the type of caricature but speak to your agent for a quote.
Are the Caricatures free for my guests to take home?
Yes. Once the drawing is completed they are free for your guests to take with them.
Testimonials
Dawn Ingram | Private Party | Edinburgh
Neil was lovely, kept in touch before hand and turned up early, fitted in with what you wanted and stayed a bit later because of a queue. Nice guy and some great pics. So glad we booked him.
Claire Mason | Wedding | Fife
Thank you so so much Neil for your amazing pictures of my guests on mines and scotts wedding day!! xxx
Make an enquiry now
& see why we are the UK's No.1 supplier of Caricaturists
How to
Hire a caricaturist
Its super-easy to find the perfect caricaturist for your
event at Book a Caricaturist. Make an enquiry via our
enquiry form or call today and get the ball rolling!
Click here to make an enquiry today