Please welcome...
Andrew the Caricaturist
An introduction
Andrew The Caricaturist will delight and charm your guests with his fabulous caricatures. He will put everyone at their ease and get the party going with his fast and uncanny likenesses. Black & White, Colour or Digital caricatures and be produced to suit your individual event.
Make an enquiry
Gallery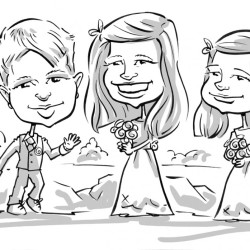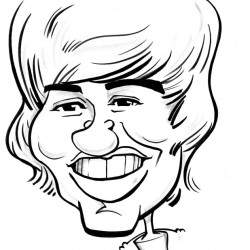 About
Andrew The Caricaturist can offer you Black & White, Colour or Digital on an Ipad to a screen caricatures in A4 or A3 size, he can add a body to along with a hobby or interest. Guests who gather to watch his creations, providing lots of laughter. Andrew The Caricaturist's caricatures are humorous but won't offend. He can produces 12 plus Black & Whites per hour.
Andrew also offers studio caricatures from your photos or emailed images or via a live skype link up (great fun)!
Digital caricatures, a great ideal at events and exhibitions to draw a crowd to your stand, Andrew works using an iPad linked to a large screen so the crowd can stand and watch an hilarious caricature being created, this holds potential clients to your stand giving you extra time to work your sales magic! Digital caricatures can be printed on the spot and sent to the persons email or phone along with the sponsors message another great way to promote your product.
Extra Info
- Based in Leicestershire, will travel
- Professional, reliable, and friendly, putting guests immediately at ease
- No per guest charge
- Weddings, Parties, Corporate Events, Balls, Dinners, Awards
- Trade Fairs - Andrew The Caricaturist will attract people to your stall
- 2 hours minimum - This is the usual booking time, but Andrew is flexible and will adapt to your requirements
- Andrew will mingle and sketch live on the spot - ideal drinks receptions
- Table to table - ideal weddings / dinners
- Or, can be in a seated area - corporate events
Testimonials
Pat Goddard | Birthday Party | Northamptonshire
Andrew arrived on schedule, and worked non stop all the time he was here. Andrew almost managed to draw every one and everybody loved their caricature sketches. We all had a wonderful time and Andrew most certainly helped to make it so. A bid hand to Andrew. Thanks a million.
Tace & Rob | Wedding | Worcestershire
Great drawings and very professional. Kept the children busy too.
Samantha Johnston | Wedding Event | Warwickshire
He was fantastic!! So polite to all my guests - fit almost everyone in and stopped a little longer to finish the people in the queue! He was fantastic Xx
Anna Tompkin | Private Party | Warwickshire
Andrew was brilliant! We had a fabulous time, he mingled really well with the whole Hen Party group... We have the most amazing keepsake from the party all 10 of us combined in one fantastic piece of art work which we've had framed and gave to the bride on the wedding morning! Andrew and his wife were both brilliant, we kept them waiting, but they were both really happy and really surprised us as they filmed the whole thing as an extra keepsake, they also became our official hen party photographers! I can't recommend Andrew enough and fantastic value as his art work is worthy of any wall and will remain with you for years to come! A big thank you to Andrew and his wife and also Warble for the ease of booking and organisation to help make the day even more special for us!
Tamara Longwe | Wedding | Northamptonshire
Provided a perfect and relaxed atmosphere at the wedding because he was very friendly, personable and approachable, glad we went with him. Good quality work produced which everybody was happy with.
Antony Macchiarelli | Birthday Party | Northamptonshire
Andrew is an absolute professional, he was very polite and punctual, will definitely hire him again. Fantastic artist. Well done Andrew.
Make an enquiry now
& see why we are the UK's No.1 supplier of Caricaturists
How to
Hire a caricaturist
Its super-easy to find the perfect caricaturist for your
event at Book a Caricaturist. Make an enquiry via our
enquiry form or call today and get the ball rolling!
Click here to make an enquiry today