Please welcome...
Adam the Caricaturist
An introduction
Adam is an extremely talented caricaturist and cartoonist. Adam has always had a passion for drawing. He has been a full-time Caricaturist and Illustrator since 2007 years and within this time he has produced first class artwork for numerous Private and Corporate Clients, such as; Audi, Manchester United and O2. Adam provides fast and fun entertainment for Private Parties, Weddings and Corporate Events and he is able to produce approx. 40 Black and White outlined caricatures per 2 hour block booking.
Make an enquiry
Gallery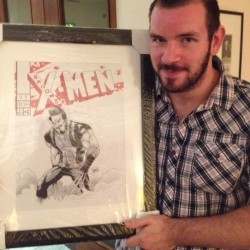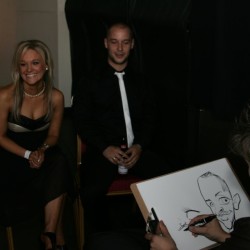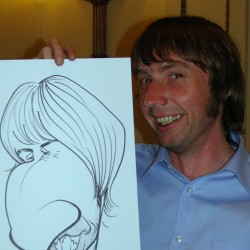 About
Adam is an extremely talented and young cartoonist who has always had a passion for drawing. Adam is a Professional Member of the National Caricaturist Network and a professional full-time caricaturist and cartoonist.
Adam offers the option of pre-printed headed A4 paper with your details on for the personal touch for a slightly extra charge for printing.
Adam is able to work sitting, standing, or mingling among the crowd and sketching them quickly. On average, Adam can produce between 40 to 42 drawings in a 2 hour block booking and is able to create amusing sketches of people or animals... in fact, anything!
From quick caricatures to studio work, Adam is able to provide a gift for all that is something very different.
Adam entertains at Corporate Events and Private Parties nationwide with live, amusing caricatures. His caricatures are also extremely popular at Weddings, Christenings, Birthdays and Retirements.Any event you want to have different entertainment.
In addition, Adam's caricatures and cartoons may be put to good use as an effective and fun way of advertising in the corporate zone. Adam will draw both group caricatures of staff members, and, a certain person such as the coordinator or managing director, incorporating the right background, to reflect the type of industry or product it is promoting.
His caricatures are known for entertaining large groups at trade shows and ensure that potential clients visiting the stand keep take away their own caricature, which will include the company's publicity on it. Ideal as a keepsake rather than throw away leaflets.
If you want an event with a difference, or, you are looking for something unique to entertain your guests for a few hours, then by hiring Adam you will have a brilliant caricaturist draw side-splitting cartoons of your guests. Which they can keep and will remember your event every time they see their caricature.
Extra Info
Here are Some Q & A s people ask before booking Adam to draw caricatures for their event.
Q: How many caricatures can you draw in 2 hour booking ?
A: Adam can draw approximately 40 to 44 in a 2 hour booking so long as he has the guests cooperation.
Q: What size paper do you draw on?
A: A4 high quality paper.
Q: How long does each drawing take?
A: Adam's black and white outlined caricatures head and shoulders only take Roughly 4-5 minutes. They are quick and very good value for money.
The time period spent on the caricatures drawings depends on, for example how much or how little detail is put into drawing. Also, Adam can control a steady speed of his pens but he can't control a persons behavior or conversion time. Also, Adam finds that children under the age of 5 can take a little longer to draw owing to they have a shorter attention span and they find it harder to sit still for any length of time. Each of Adam's caricature takes approximately 4/5 minutes any quicker might lessen the quality.
Q: How many people can you draw on one A4 paper.
A: Adam can draw individuals, couples, and small groups of 3 people on one A4 paper
Q: Do we have to provide you with anything ?
A: If Adam is drawing caricatures in an area roughly 2 x 3 meters he will need a few chairs, small table and access to an electric outlet socket and plenty of light. If he's booked for mix and mingle then he will need plenty of light access to your guests!
Q: If I wanted to book you for my event, how much time do I need ?
A: Book early to avoid disappointment. Bookings is taken on first come first served basis.
Testimonials
Mike Phillips | Corporate Event | Liverpool
I wanted to email to express my thanks for Adam attending our event on Saturday. The service he gave was excellent. The caricatures were great and everyone was made up with the pictures. We would have no problem using him again or recommending him to anyone else.
Mr & Mrs Bibbly | Wedding | Liverpool
Hi Charlotte, I would like to thank you for providing Adam for our event, especially as it was very last minute. Adam was excellent and everyone was made up with their drawings, which were brilliant. We would highly recommend Adam to family and friends, and would hire him for future events. Thank you all very much.
Steve Morgan | Wedding | Lancashire
Excellent! Would use his services again and would recommend him to others :)
Helene Monks - Vestas | Corporate Event | Merseyside
Adam did a great job, everybody loved his pictures.
Make an enquiry now
& see why we are the UK's No.1 supplier of Caricaturists
How to
Hire a caricaturist
Its super-easy to find the perfect caricaturist for your
event at Book a Caricaturist. Make an enquiry via our
enquiry form or call today and get the ball rolling!
Click here to make an enquiry today